Forwarding services
We provide services throughout the logistics process. We arrange transport for whole-vehicle and general cargo consignments ranging from 100kg to 24 ton in the EU.
For the purposes of execution, we employ only the best and many years of subcontractors cooperating with us. Our experienced team of professionals is a guarantee of timely and seamless transportation service.
During the nearly 10-year activity in the TFL gained the trust of the country's largest and Europe shipping companies and carriers. We have the required licenses and insurance.
We are a company operating in a clear and transparent manner, in accordance with applicable laws and regulations.
By customer request, provide letters of reference.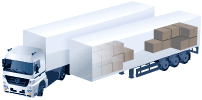 FTL & LTL transport
* Full Truck Load
* Less than Truckload