International transport
Since 2010, we expanded our scope of services of personal transport. We have a new long-haul fleet, built on the basis of reliable manufacturers: Mercedes, and Krone.
Our kits are designed to transport various materials:
pallet and paper - tarpaulin trailers
transportation circles sheets - semi-professional: Coilmulde.
According to the current standard, our trucks meet emission standards EURO-5. Each semi-owned certified STANDARD EN 12642 Code XL. Sets are standard equipment belts STF 500 (standard EN12195-2), non-slip mats, angles, beam anchors, chains and seat to protect the vertebral plates.
To ensure the security service and maintain high technical efficiency of our fleet, we have signed long-term service contracts with manufacturers to ensure minimum maintenance and downtime.
International transport realized throughout the EU, with a focus on directions: Germany, Belgium, the Netherlands, Austria, Switzerland and Italy.
We have the required licenses and insurance, including insurance operations to transport materials in Germany. We are a company operating in a clear and transparent manner, in accordance with applicable laws and regulations.
By customer request, provide letters of reference.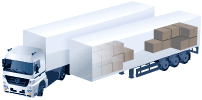 FTL & LTL transport
* Full Truck Load
* Less than Truckload